BOOK YOUR NEXT
TOURNAMENT WITH US
 We have EVERYTHING you need to make your next tournament a success.
Our amazing and friendly staff are here to help and of course the course itself is
super fun and has some great challenges ahead for your tournament.
Tournament Program
What's included?
Green Fees
Golf Carts
Tournament Coordination
Registration Area
Signage Placement
Tee Blocks set for Tournament Standards
Prize Table set-up
Course Marshalls
Management Welcome Remarks and Course Play Information
Special Menu on Request
We have "Design Tips" How to Organize a Great Tournament
For those who book with us we can help you with the design and organization of your special event. Whether it is a corporate outing or a public event our staff can help you create a successful event. We have developed special forms, registration processes, sponsorship ideas and other helpful hints that will take the guess work out of organizing and operating your tournament.
Tournament Rates
Please contact the management team for tournament rates and special REDUCED rates for LOCAL CHARITIES at (705) 855-8558.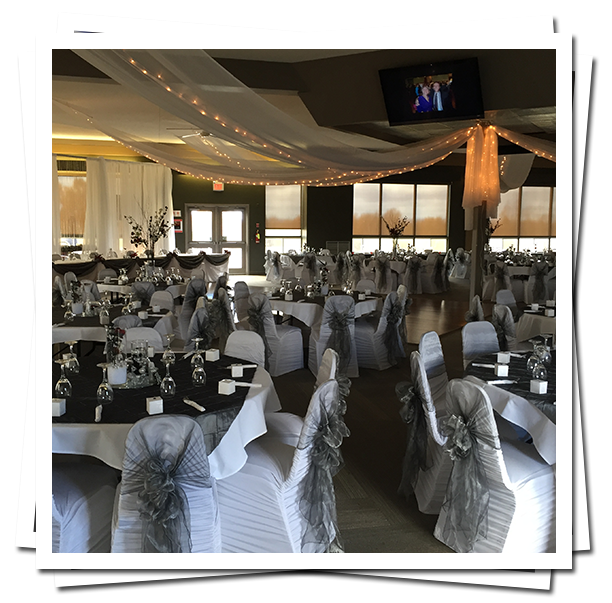 Banquet Hall Rental
We have been waiting to serve you. If you are planning a family reunion, a Corporate event, Christmas party, a major fund raiser, etc., let us be the facility of choice. We can accommodate you and another 249 of your family and friends in a room that was designed for eloquent functions. Wonderfully delicious menu options, served by trained staff will make your event the talk of the town. Please download our rates and menu options and should you need additional information please do not hesitate to contact us 855-8558. We look forward to serving you.
Business/Organization Meetings
For smaller functions such as business or organization meetings, groups will have the choice of ordering meals from our daily menu or by calling our management team to work with you in preparing your ideal meal.  Some options include:
Chicken Breast  
Turkey, Stuffing, Cranberry Sauce                    
Roast Beef
Prime Rib
Combination Beef & Chicken  
Chicken and Sweet and Sour Meatballs   
Fried Chicken and Ribs
For meal pricing and or special menu options please call our management team at (705) 855-8558.
Book Your Next Event!
Find out more about what we can offer you for your next event or tournament.
3525 Forest Ridge Road,
Chelmsford, ON P0M 1L0
Find out more about booking events!